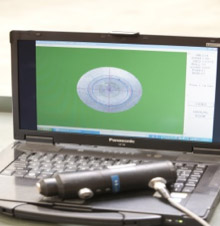 As one of the country's premier forging facilities, Eastham Forge employs only fully qualified and certified personnel with extensive experience in metallurgical testing and analysis. We work closely with a number of well-known and reputable laboratories in North America. Eastham Forge has a full-time metallurgist on staff.
Eastham Forge also only utilizes NDE sources who adhere to SNT-TC-1A, ACCP, and/or other industry accreditation standards, as required.
Metallurgical Testing
Metallurgical testing is performed as required, according to client specifications and industry code.
Metallographic Analysis – Grain Size, Micro-inclusion Content, Macro-inclusion Content, Metallographic Phase Determination, Microhardness, Portable Microscopy, Replication
Mechanical Testing – Tensile,  CVN, CTOD, SSC, HIC, Drop Weight, Bend Test, Hardness , Corrosion Testing
Other Testing – Spectrographic Chemical Analysis, Chemical Analysis, Intergranular Corrosion Testing, Jominy Hardenability, Post-Weld Heat Treat
Non-Destructive Testing
The results of this type of testing uncover the presence of any discontinuities in the sample or in the part being tested. Inspection methods include:
Ultrasonic
Magnetic particle
Liquid penetration
Visual
PMI