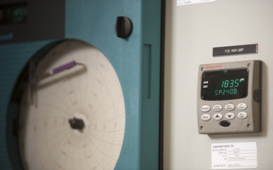 In today's domestic and international markets, companies are increasingly quality-driven. This has resulted in a very demanding and stringent set of specifications for raw materials and in-plant processing. Eastham Forge meets these demands with a quality assurance department that understands and adheres to customer and industry requirements.
The quality assurance department impacts all aspects of corporate activity. It provides all employees with ongoing training and indoctrination into the quality program of the company, and the relationship of individual duties to overall quality and safety in the work place. The quality department also conducts audits on a prescribed schedule to confirm compliance with all objectives of the quality assurance program, and to evaluate and continually improve processes and procedures.
The Eastham Forge Quality Assurance Program meets the requirements of specifications: ASME, ASTM, ANSI, SPPE-1, API, NACE, NORSOK AND ISO-9001.
In order to ensure we consistently provide the highest level of quality for all your products, we maintain:
A dedicated Quality Team that includes all employees in Customer Satisfaction goals
Certification that meets EN10204 Type 3.1 requirements
Certification to EN10204 Type 3.2 – Available through independent third party
API and NACE compliance
ASNT SNT-TC-1A & ACCP Certified (Level II & III) NDE to meet your Ultrasonic, Magnetic Particle, Visual, Liquid Penetrant and Pressure Equipment Directive (PED) requirements
On staff Metallurgist
Stationary Hardness and King Portable Brinell, with King Scan III Camera system to verify hardness readings.
Fully controlled calibration system