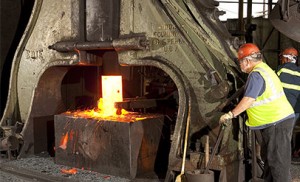 Eastham Forge, Inc. currently has the capability to produce forgings from under 25 lbs. to over 25,000 lbs. After the addition of our 7,500 ton hydraulic press, that capability will expand to 40,000 lbs.
Eastham Forge's facility includes:
•    5,000 Lb Steam Hammer
•    10,000 Lb Steam Hammer
•    1,600 Ton Hydraulic Press
•    3,000 Ton Hydraulic Press
•    220 Ton Vertical Ring Mill
•    7,500 Ton Hydraulic Press (planned)
Eastham specializes in manufacturing forgings to near-net shape. This is accomplished by use of distinctive split die tooling and special open die forging techniques. Eastham designed tooling is far less expensive than conventional closed die tools.
As an ISO9001:2008 and PED certified forging facility, Eastham Forge has developed a solid reputation as an approved supplier by nearly every chief fabricator and end user of oil field equipment in the world.
Eastham not only services the oil tool industry. Our capabilities are also used in the drilling, mining, food processing, gearing, turbine, medical, power and wind energy generation and petrochemical industries. Eastham Forge's expertise will benefit any application where forgings are needed. Our forging services are second to none.